Published by Lincoln Journal Star, Amie Just – April 16, 2023 
ATKINSON — You remember the moment.
It's a 24-second long Spring Game play seared into the minds of Nebraska fans. There's little 7-year-old Jack Hoffman, only 4-foot-something, fighting pediatric brain cancer. He looks up at the offensive linemen like they're Sequoia trees.
His helmet is too big, bobbling on his head. So are his pants, previously worn by his father, Andy, when he was a lineman for Spencer-Naper in the 1990s. Prayers from Jack's mother, Bri, and Andy's purple Pirates belt are the only things keeping up Jack's britches. The autographed Rex Burkhead jersey fits snugly over his football pads — a Halloween costume earning a brief second wind. 
In the fourth quarter, quarterback Taylor Martinez helps get him lined up in the backfield before patting him on the head. Jack takes the handoff, immediately darting to his left. Oh no. That's the wrong way. Martinez guides him the other direction.
 
Jack turns on the jets. He's at the 40. His legs speed up. He's at the 20, nothing standing between him and the end zone. The inner voice in Jack's head repeats his three-pronged mantra:
Do not trip. Do not stop. Do not drop the ball.
He's at the 10. The crowd of 61,722 roars louder. Everyone able to stand is on their feet. After 69 yards of running, Jack crosses the goal line and doesn't stop — taking the "run to the fence" advice from his father to heart. Fullback C.J. Zimmerer hoists Jack onto his shoulders. Jack can't think. It's far too loud.
Little Jack, at the time, comes up with the perfect three words to surmise what's now known as The Run: "It was awesome." Even now, he has a hard time finding better verbiage.
It's been 10 years since Jack Hoffman raced across Tom Osborne Field and into the hearts of sports fans across the globe. Since Jack was diagnosed in 2011, life has been a roller coaster for the Hoffman family.
The lows: For Jack, the wrong diagnosis, multiple surgeries, tumor progression, seizures. For dad Andy, the diagnosis of Glioblastoma multiforme and a 7-month-long battle against brain cancer before his death on March 1, 2021.
The highs: the ESPY win for The Run, meeting countless celebrities, going to the White House and meeting President Barack Obama. He's been offered a full scholarship from Midland University. Team Jack, the charity started by the Hoffmans, has raised millions for pediatric brain cancer research.
 
These days, Jack stands 5-foot-10 and lives life as a mostly normal teenager. He can't drive due to his seizures, but not much else sets him apart from his peers. He went to prom last month, wearing an emerald green tie to match his date's sparkly dress. He's a lineman for West Holt's football team, wearing No. 76. He throws discus and shot put.
 
"The past 12 years I couldn't have predicted, but you just go with it," Jack said this week. "It just is what it is. After the first six years of my life, I've learned to adapt pretty well."
'Very difficult to get to'
Jack doesn't remember much. Not from his pre-cancer days, anyway.
The day itself, he remembers. It's fuzzy, but parts of April 22, 2011, are still there.
"I didn't think it was a big huge deal," Jack says now. "I was like, 'Oh, I have something like the flu again. Whoopie.'"
The details for his parents are vivid.
"I will never need a calendar to remind me," Andy wrote in his book, published in 2020. "The date and what followed are forever etched in my memory."
It's Good Friday. 7 a.m. Bri tries to get her oldest child to drink some water, but he's outlining the rim of the cup with his finger, seemingly not listening to her request.
On the surface, normal childhood defiance. In actuality, the foreshocks to a grand mal seizure — one of two Jack's had in his lifetime.
Before Jack's seizure, Bri had taken him to Atkinson's hospital, a rural operation with 17 beds. He began seizing as the medical staff transferred him from the gurney to the CT scan bed. The episode lasted 30 minutes. Respiratory failure followed, as did a frantic ambulance ride to Norfolk's airport — a 95-mile drive — before a life flight to Omaha Children's.
Originally, Jack was diagnosed with HSV encephalitis, a deadly brain virus, after doctors misread his MRI. He was treated for that, a disease he did not have, for three weeks before being diagnosed with a cancerous glioma on May 12, 2011.
The tumor was deep in the temporal lobe of Jack's brain, situated next to his brain stem and cerebral artery. "Very, very deep and very, very difficult to get to," Andy wrote. "The worst location possible."
Despite initial fears, Jack's brain surgery was believed to be successful. The doctor reviewing the MRI claimed she'd removed ninety-plus percent of Jack's tumor. That proved not to be the case. After consulting with Boston Children's to get a second opinion, Jack underwent a second brain surgery shortly after his sixth birthday. The surgeon, world-renowned pediatric neurosurgeon Dr. Liliana Goumnerova, managed to remove nearly all of the tumor — tissue the size of a large date.
Even still, Jack needed chemotherapy. His treatment lasted 60 weeks.

'I got more … from him'
You might not remember the photo.
Rex Burkhead is celebrating, pointing up with his right index finger, after Nebraska scored a third-quarter touchdown against Washington in 2011. Above his wrist tape, there's a red band. Without close inspection, you'd assume it's a Huskers accessory. You'd be wrong. The message inscribed in white comic sans type was a simple one: "Team Jack — Pray."
Jack, in his first-ever meeting with Burkhead earlier that week, gave him the wristband after touring Memorial Stadium with him. Burkhead promised Jack he'd wear the band for NU's Sept. 17 clash with Washington. He did, rushing 22 times for 120 yards with two touchdowns in the win.
Less than a month later, the Hoffmans relocated to Boston ahead of Jack's second surgery, but Burkhead didn't forget Jack.
He called before and after Jack's procedure, and took time ahead of Nebraska's stunning victory over Ohio State to speak with the ABC broadcast crew about his relationship with Jack. The Team Jack movement was officially national.
Their relationship continued to blossom, earning Burkhead the Uplifting Athletes Rare Disease Champion award in 2012.
Even though Burkhead exhausted his eligibility in 2012, he was instrumental in getting Jack on the field for the 2013 Spring Game.
"To see his light and joy for life, knowing what he was battling was just unbelievable," Burkhead told the Journal Star. "At that time, I think they're hoping I would give him a little strength or inspiration and I think I got just as much, if not more, from him."
'This is a big deal'
Jack is seated in the backseat of the family Suburban alongside his friend, Drake, and sister Ava. They're on the way to Lincoln for the 2013 Spring Game. Somewhere along the way, Andy tells Jack the plan: coach Jeff Jamrog called last night. He and coach Bo Pelini want you to suit up and score a touchdown in the game today.
"I was a pretty reserved 6-year-old," Jack says now. "I hated publicity. I hated any interaction with people I didn't know. And with the 60,000 in attendance? I really didn't want to do it."
Andy eventually convinced him, as did Drake's dad, Chris Nemetz — who's now Jack's history teacher.
Tight end Trey Foster, with Zimmerer, helped lead block for Jack.
As Jack crossed the 40, Foster threw his right arm into the air and pointed at the end zone.
"I remember telling him, 'Come on Jack. Get it in there,'" Foster told the Journal Star. "And then he just takes off. He just sprints past all of us. We're like, 'OK! OK! He's got some speed to him. Go ahead!'
"… That's probably one of the happiest plays we've ever had on that football field.'"
As soon as Jack crossed the goal line, Zimmerer chased after him — finally catching up by the time Jack reached the back of the end zone.
In that moment, Zimmerer felt an overwhelming urge to do something to celebrate.
"It was spur of the moment, 'Let's pick him up. Let's raise him up,'" Zimmerer told the Journal Star. "We got the whole team. We got guys off the sideline. I don't think anybody could have planned that. If I did, it definitely would have ruined that organic moment. Our guys on the team then knew in the moment, 'Wow. This is a big deal.'"
The nation latched on immediately. The play was the lead segment on SportsCenter, even though the men's Final Four was the same day. Ten years later, the video has 8.9 million views on YouTube.
One viewer: President Barack Obama. He wanted to meet Jack.
Three weeks after The Run, the Hoffmans and Burkhead flew to Washington, D.C.
"I remember not fully understanding why I was there," Jack says now. "I still thought it was pretty cool, but how did I go from a football field to here?"
'Who would have known'

The shimmering silver trophy on the mantle has a scratch.
Situated next to Team Jack cleats, a signed football from Obama and other meaningful memorabilia, the ESPY stands out. When Andy and Jack accepted the trophy in 2013 for "Best Moment," the trophy was half Jack's size.
In Jack's short acceptance speech, he called the moment "super duper awesome."
In Andy's acceptance speech, he thanked everyone — including ESPN for helping raise awareness for pediatric brain cancer.
The Team Jack Foundation was in its infancy in those days, as Andy and Bri had officially formed it as a 501(c)(3) months earlier in January 2013 and ran the organization out of their basement.
Brain cancer is the No. 1 cause of death for children with cancer, but less than 4% of the National Cancer Institute's research dollars are spent on pediatric cancers. The first-line chemotherapy treatments for pediatric brain cancer patients hasn't been updated in decades.
It incensed Andy, so he took it upon himself to spread the word.
"He wanted to help these kids as much as possible," Burkhead said. "Pediatric brain cancer, he knew, needed so much funding, just because it's a rare disease, so he did whatever he could. He's very passionate about it." 
The Run and all the acclaim it received helped boost Team Jack from a fledgling operation to one that has raised more than $9 million for pediatric brain cancer research.
"Just being in the stadium that day, who would have known that the amount of attention that one play could bring to pediatric brain cancer," said Brent Qvale, the former Husker lineman whose wife, Melisa, is on the Team Jack Foundation's gala board.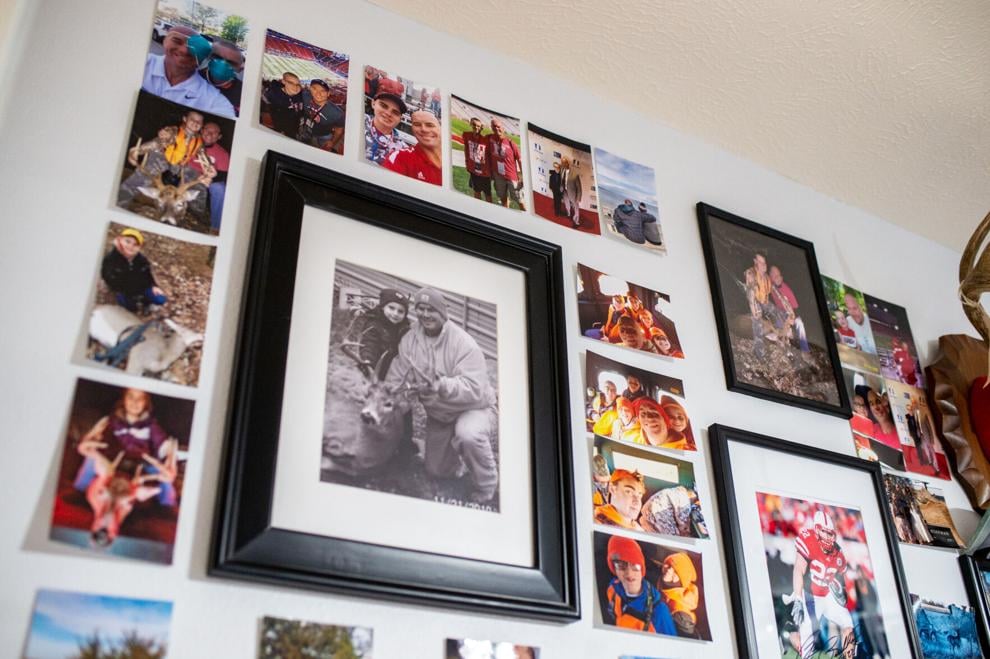 Bri remembers the moment she realized something was off.
It's July, peak lake season, but Andy couldn't get the boat out of the garage. He'd always been able to do it, never before having issues. Then, there were communication breakdowns. A week later, Andy — an avid runner who'd finished multiple marathons —went out for a run on the Cowboy Trail. Bri, suspicious of his odd behavior, made sure he had his phone.
Two miles in, Andy had a seizure and fell onto the crushed limestone.
Somehow, Andy had a moment of clarity to call Bri. She and a neighbor helped him up, immediately taking him to the hospital. The initial CT scan showed something on his brain.
The physician's assistant working that day was the same one who, all those years earlier, attended to Jack.
"'You guys gotta stop doing this to me,'" said Jack, recalling what the PA said to his dad.
The Hoffmans went to Sioux Falls for additional testing and scans. The Hoffman kids had to stay with Bri's sister due to COVID protocols.
"We all wanted to be there," Jack said. "We were just biting our fingernails, wondering what the heck was happening. I was just sitting on the couch, expecting to fall asleep with my eyes wide open."
Further imaging at the Sioux Falls hospital confirmed the Hoffmans' worst fears.
Andy had brain cancer, and the highly aggressive tumor had spread to both sides of his brain. His diagnosis came nine years and two months after his son's.
"There's no freaking way," Jack thought.
"It still boggles my mind," he says now. "I thought there had to have been some genetic link."
Jack has a glioma. Andy had Glioblastoma multiforme. The underlying mutations for their tumors were different. Before testing confirmed the differences, Andy was a nervous wreck, thinking he'd given his son the same fate.
"They were like, 'No that is not even possible,'" Bri said. "He was literally so relieved. It mattered to him a lot."
Andy's cancer progressed rapidly. A few days after he went out for his ill-fated run, the friendly lawyer couldn't say his own name. Strokes and a brain bleed followed, as did surgery, chemotherapy and radiation at Mayo Clinic in Minnesota.
He had good days. There were times he was up for running with his daughter, Ava. He was crushing his physical therapy workouts. He'd be at Jack's football games, no issue.
He had bad days. Jack had to help carry him when he couldn't walk. The bouts with nausea — a precursor to discovering two new tumors in October 2020. The positive COVID test in February 2021.
"You just don't understand it. We never will," said Burkhead, who worked closely with Andy through the Team Jack Foundation. "The fact it wasn't hereditary either? Mind-blowing."
Andy died on March 1, 2021 — 358 days after finishing the LA Marathon. He was 42.
Glioblastoma multiforme patients typically live for one year after diagnosis, but after Andy tested positive for COVID-19 the month before, his medical team discovered his cancer had spread again.
"I still have a lot to be thankful for," Bri said. "There were a lot of things I got to say to him that I wouldn't have if he had died in a different way. But we had to watch him suffer. It's hard. I don't think we'll ever get over it. You just learn to live with it. I'm lucky to have three kids that have multiple qualities of Andy, so he lives on through them."
The first paragraph of Andy's book contains three haunting lines.
Even beyond the publication of this book, the story continues, unfolding daily. It may not have a happy ending. Only God knows.
Andy was writing about Jack. He sent his manuscript to the publisher two weeks before his battle with cancer began.
Remission is not a word the Hoffman family uses.
Jack is treated as if he has a chronic illness. If his scans show no change, the Hoffmans say Jack's on treatment but he's stable. Due to the location of Jack's tumor, surgeons couldn't remove it all. Most of it was removed, but a wisp remains. There's no treatment on the market that causes tumors to disappear.
He's been on a clinical trial for years. This specific one for four.
Part of that includes his 22-pills-a-day regiment. That's 8,000 pills a year. Most of them are seizure medications, as he has to take six to get the right dosage. The pills he takes for the clinical trial are small, but the seizure ones are larger.
He still gets seizures, but Jack is nonchalant when he describes them. They aren't the cinematic type. For Jack, he doesn't feel anything. Sometimes, he doesn't even realize he's having one.
"The best way I can describe it is sleepwalking," Jack said. "My mind goes blank and my body goes on autopilot. It can be anywhere from 30 seconds to 20 minutes. I don't feel anything. My memories are just foggy in that period of time."
Sometimes, he can talk and answer basic questions while he's having a seizure, but he can't comprehend what's actually being said. Sometimes, he'll have one a week. Sometimes, he'll go weeks without having one and then will have three back-to-back.
Bri adds, "His brain's sneaky."
He has had seizures at football practice and in football games, though. But his teammates, coaches and game officials have become masters at detecting his seizures. If he has one during a game, he's out for the duration. That curbs the potential for clustering.
"I'm not treated any different than anyone else," Jack said. "That's lucky for someone like me. I have some friends that aren't as lucky. Sometimes the people around me make me forget I have brain cancer, which is actually really nice."
In addition to the pills, Jack requires quarterly scans. Two of those annual scans are done in Omaha, while the other two require travel to Boston.
Even though the scans are routine now, nerves bubble up for Bri with each scan.
"You just live scan to scan," Bri said. "If you have a good, stable scan, you appreciate it and then you know it's going to come up again in three months. Every parent has the same sentiment, you never really are not anxious about scans, even if it's been stable for years, you know?"
Jack's last scan was in March in Omaha.
For the first time in four years, Jack's scans showed tumor progression.
The Hoffmans are still figuring out their best course of action, whether that be another surgery or a different concoction of medicines.
The Hoffmans have been told that other patients with Jack's type of tumor have shown that once they reach their 20s, their tumors have gone dormant. They were hopeful he, too, could have that same outcome since he'd had stable scans for so long.
"He's 17, so we were hoping that the thing would slow down and his seizures would slow down, but evidently that's not the case," Bri said. "I'm still hoping that this is the kind that when he reaches his twenties, it'll calm down."
Jack doesn't want anyone to panic.
"I don't feel any different," he said. "I'm not too worried."
This new revelation isn't going to disturb his future plans. Not if he can help it.
He has one year left of high school. Then his sights are set on college, which felt out-of-reach 11 years ago.
"When you have a kid that's diagnosed with a brain tumor, you don't know if college is even an option," Bri said. "Honestly, I'm excited for him to go. Tickled pink that we have the opportunity to send him off to college."
While Jack's not too keen on attending the University of Nebraska — "it's a little big for me," he says — he really likes Midland University in Fremont. Thanks to the generosity of coach Jamrog, Midland's already offered him a full-ride scholarship.
"I'm thinking about going to law school," Jack said.